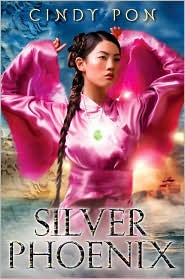 I just wanted to announce to everyone that my good friend Cindy Pon's YA debut,
Silver Phoenix
, is hitting bookstores TODAY! I haven't snagged my copy yet (will get myself a nice signed copy... or two) so I haven't read it yet, but I'm SO EXCITED for Cindy and SO PROUD that the day is finally here! And I'm sure her book -- a YA fantasy set in a fictional Chinese land -- is going to be awesome and fun... especially bc it features a strong Asian heroine.
CONGRATULATIONS CINDY!!!!!!!!!!!!!!!!!